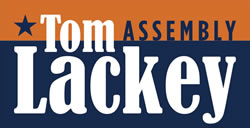 | | |
| --- | --- |
| FOR IMMEDIATE RELEASE | Contact: Tom Lackey |
| March 21, 2014 | Phone: (661) 317-9837 |
Supervisor Zack Scrivner Endorses Tom Lackey for Assembly
Palmdale, CA – Retired California Highway Patrol Sergeant and Assembly candidate, Tom Lackey is proud to announce that he has been endorsed by Kern County Supervisor Zack Scrivner.
"Tom is a local Boron product that has become a leader throughout the high desert region," Scrivner explained. "Tom understands the issues that matter most to our community, and he has the leadership experience, passion, and common sense to find solutions to these problems. I can say with certainty that there's no better choice than Tom for Assembly."
Lackey was raised in the small town of Boron in Kern County. He devoted almost three decades to the California Highway Patrol before retiring as sergeant. He has since served on the Palmdale City Council, where he recently won re-election for his third term, holding the position of Mayor Pro Tem for the second time in his career as an elected official.
Lackey's commitment to serving his community has extended beyond his roles in the California Highway Patrol and the Palmdale City Council. He has held positions on the Palmdale Elementary School District Board of Trustees, the Antelope Valley School Board Association, the Citizens Advisory Committee for California State Prison- Los Angeles County, the Antelope Valley Transit Authority Board, the Metrolink Southern California Regional Rail Authority, the Los Angeles County Sanitation District, the California Contract Cities Association, and the Antelope Valley Crime and Human Resources Task Forces. This impressive service list further highlights Lackey's extensive leadership and experience in many aspects of local government.
Lackey is a strong conservative leader. He is an elected member of the Los Angeles County Republican Central Committee and a member of the Antelope Valley Republican Assembly. As Assemblyman, Lackey will use his expertise to lower taxes, increase public safety, secure education improvements, and promote job growth through private sector economic development.
Tom and his wife Theresa live in Palmdale with their two children, Justin and Jani.
###