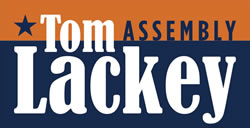 | | |
| --- | --- |
| FOR IMMEDIATE RELEASE | Contact: Tom Lackey |
| March 19, 2014 | Phone: (661) 317-9837 |
State Senator Jean Fuller Endorses Lackey for Assembly
PALMDALE – State Senator Jean Fuller has endorsed retired California Highway Patrol Sergeant and Palmdale Mayor Pro Tem Tom Lackey in his race against Steve Fox in the 36th Assembly District. Senator Fuller represents the 18th district which stretches from Twentynine Palms to San Bernardino and up to Bishop, overlapping a section of the Assembly 36th District in Kern County.
"Jobs and public safety remain two of the most important issues facing California, and Tom has proven himself to be very capable in making a difference in these issues at the local government level for his constituents," said Senator Fuller in a statement. "I fully support Tom for Assembly and urge the residents of his district to send him to Sacramento to be a conservative, fiscally responsible voice that truly represents the great people of this region."
Prior to representing the 18th Senate District in 2010, Fuller was elected to represent the 32nd Assembly District in 2006. She was recently recognized in the Senate as the California Communications Association Legislator of the Year, and has also earned high marks annually from both the California Chamber of Commerce and the National Federation of Independent Business Groups.
"I greatly appreciate the support of Senator Fuller, one of the strongest conservative voices in our capitol," said Lackey. "Her support provides yet another reason why conservative voters should stand up with me on the dire issues facing our state. The public safety and economic woes created by the Democratic supermajority in Sacramento must come to an end. With the voters' support this June and November, that is just what I intend to do."
Lackey is running in what will be one of the most closely monitored legislative races in California. In addition to Palmdale City Council Mayor Pro Tem, he also serves as a delegate for Palmdale to California State Prison – Los Angeles County Citizens Advisory Committee, and recently retired as a Sergeant in the California Highway Patrol after 28 years of service.
###