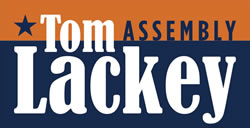 | | |
| --- | --- |
| FOR IMMEDIATE RELEASE | Contact: George Andrews |
| July 20, 2016 | Phone: 916.905.2599 |
Palmdale Mayor endorses Tom Lackey for Assembly
Palmdale, CA— Assemblyman and retired California Highway Patrol Sergeant, Tom Lackey has received the endorsement of Palmdale Mayor James Ledford.
First elected Mayor in 1992, Ledford is serving his 12th consecutive term. A longtime leader for the City of Palmdale, he plays a leadership role on a number of local commissions, such as Chairman of The Palmdale Aerospace Academy and Chairman of the North County Transportation Coalition.
"Tom cares deeply for our community and has demonstrated his level of commitment while serving as our Assemblyman," said Ledford. "He will continue to focus on the core issues of public safety and job creation, while working with local leaders to expand opportunities for our region and its residents."
A retired Sergeant with the California Highway Patrol, Tom Lackey spent 28 years patrolling the roadways and protecting the area's residents. In the Assembly, Tom continues to advocate for common sense polices that enhance public safety and allow law enforcement to do their jobs safely and effectively.
Last year, Tom co-authored the State's first piece of legislation that would provide police officers with the tools to detect drugged driving. It this type of foresight that has also resulted in Lackey being named Legislator of the Year by the California Police Chiefs Association and the Easter Seals Foundation, and receiving a perfect score from the California Small Business Association.
Tom Lackey is seeking reelection to California's 36th Assembly District, which includes the communities of Lancaster, Palmdale, Rosamond, Mojave and California City.
To learn more about Tom Lackey, visit: www.LackeyforAssembly.com
###