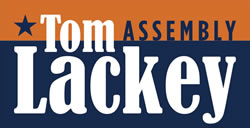 | | |
| --- | --- |
| FOR IMMEDIATE RELEASE | Contact: Matt Rexroad |
| July 21, 2014 | Phone: (916) 648-1222 |
Lackey Endorsed By Every Supervisor In Assembly District
Republican challenger looks to be front-runner
Palmdale, CA— Assembly Candidate Tom Lackey announced that he has received the endorsement of San Bernardino County Supervisor Robert Lovingood. The endorsement of Lovingood now solidifies the support of every County Supervisor within California's 36th Assembly District.
As a top target seat for both Republicans and Democrats, the results from June's primary election and the endorsements of Supervisors Mike Antonovich, Zack Scrivner and now Robert Lovingood, are beginning to make the Republican challenger look like more of a front-runner every day.
"There is a lot of opportunity in our region, but in order to capitalize we need commitment from our elected leaders on every level," said Lovingood. "We have to make efficient and effective decisions that ensure fiscal accountability while promoting a sense entrepreneurism and pride within our communities. I am confident that Tom will help us accomplish this task."
As a Palmdale City Councilman who was recently elected for a third term, Lackey has been an advocate for education reform, public safety, and job creation. His knowledge of local issues and commonsense decision-making has offered real leadership on a board committed to economic revitalization.
In an earlier release, Kern County Supervisor Zack Scrivner expressed his support for Lackey by saying, "Tom understands the issues that matter most to our community, and he has the leadership experience, passion, and commonsense to find solutions to these problems. I can say with certainty that there's no better choice than Tom for Assembly."
As a former highway patrol officer, special education teacher, and member of the Palmdale Elementary School Board, Lackey has demonstrated an unparalleled commitment to a region in which he has always called home. In addition to his work as an elected leader, Lackey has been appointed to numerous positions some of which include the Citizens Advisory Committee for California State Prison – Los Angeles County and the Antelope Valley Transit Authority Board.
There is no doubt that Lackey has dedicated both his life and career to serving the area, and if June's primary is any indicator of how the electorate will vote in November, Democratic interests will have a tough time holding a seat that was taken from Republicans in 2012.
Tom Lackey and his wife Theresa live in Palmdale with their two adopted children, Justin and Jani.
To learn more about Tom, visit: www.LackeyforAssembly.com
###