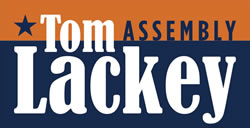 | | |
| --- | --- |
| FOR IMMEDIATE RELEASE | Contact: George Andrews |
| October 7, 2014 | Phone: (916) 905-2599 |
Lackey Continues to Build Local Support: Santa Clarita City Councilman Cites Leadership and Ethics
Palmdale, CA— Retired Highway Patrol Sergeant and Assembly Candidate, Tom Lackey has received the endorsement of Santa Clarita City Councilman Dante Acosta.  The support of Acosta adds to a long list of local elected officials currently supporting Lackey's campaign for the Assembly District that covers a portion of North Los Angeles County as well as Kern and San Bernardino Counties.
A Santa Clarita resident for nearly 30 years, Acosta has always been recognized as a passionate leader for the region.  In 2011, his eldest son was killed in action while serving in Afghanistan, and since that time, Acosta has spent countless hours helping the men and women returning from war.  He is the Founder of the Rudy A. Acosta Memorial Foundation and a member of the fundraising committee for the Portraits of the Fallen Memorial.
When asked about his support of Lackey's campaign, Acosta said, "Tom has lived in this region as long as any of us and our community has greatly benefitted from both his leadership and selfless nature." The Councilman added, "With the record number of indictments and convictions on the State level, our region and its residents deserve a Representative who will rise above the current political culture in Sacramento and fight for our families. I'm confident this person is Tom Lackey."
Raised in the small mining town of Boron, Lackey has dedicated his life to public service.  From special education teacher, and school board member, to Highway Patrol Sergeant and local City Councilman, Tom's amiable nature and knowledge of public policy continues to greatly impact the community.
There is nothing that demonstrates the impact of Tom's career more than the number of endorsements that his campaign has received from local leaders and trusted organizations.  Although he is running against an incumbent, the current Assemblyman has been the subject of two different lawsuits since being elected in 2012, and Lackey has earned support from a majority of the Palmdale and Lancaster City Councils as well as every Supervisor in the District, the National Federation of Independent Business and the California Small Business Association.  To see more endorsements, click here.
Tom Lackey and his wife Theresa, live in Palmdale with their two adopted children, Justin and Jani.
To learn more about Lackey, visit: www.LackeyforAssembly.com
###