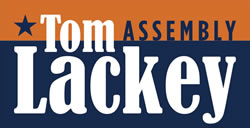 | | |
| --- | --- |
| FOR IMMEDIATE RELEASE | Contact: George Andrews |
| February 25, 2016 | Phone: 916.905.2599 |
House Majority Leader Kevin McCarthy Endorses  Assemblyman Tom Lackey
Palmdale— Congressman Kevin McCarthy has endorsed Assemblyman and retired California Highway Patrolman Tom Lackey for re-election.
"Tom's experience as a CHP officer and local elected official are exactly why he has had such a successful first term in the Assembly," said McCarthy. "His no-nonsense, solutions-based approach makes him the ideal representative for the Antelope Valley. I am proud to endorse Tom Lackey for re-election."
Congressman McCarthy, elected in 2006, currently serves as Majority Leader in the House of Representatives. McCarthy, a Bakersfield native, opened a small business and put himself through college and graduate school before being elected to the State Assembly in 2002. A fiscal conservative, his tenure as Assembly Republican Leader saw bipartisan efforts to reduce the state budget deficit and create job opportunities for Californians. Today, Congressman McCarthy fights for the residents of the Central Valley in Washington, D.C., where he works to promote energy independence and protect taxpayers and business owners from government overreach.
Prior to his election in 2014 to the State Assembly, Lackey served on the Palmdale City Council, where he worked to serve the needs of local business owners and schools. A 28-year veteran police officer, Lackey developed a passion for public safety at an early age. In the Assembly, he co-sponsored the historic Medical Marijuana Safety and Regulation Act in 2015, intended to create the state's first framework for regulating drugged drivers.
Assemblyman Lackey responded to the endorsement, saying: "I'm honored to have his endorsement in my campaign for re-election. Congressman McCarthy is not only one of the great leaders in California but also the entire country. I value both his trust and friendship."
Raised in Boron, Tom Lackey currently lives in Palmdale.
To learn more about Assemblyman Tom Lackey, visit: www.LackeyforAssembly.com
###