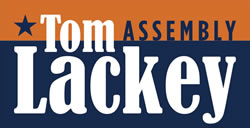 | | |
| --- | --- |
| FOR IMMEDIATE RELEASE | Contact: Tom Lackey |
| January 17, 2014 | Phone: (661) 317-9837 |
Highway Patrolman Tom Lackey to Run for Assembly
Knight, Runners, and Ledford Unite Behind Lackey

Palmdale – Recently retired Highway Patrolman and Palmdale City Councilman, Tom Lackey will run for the California State Assembly in 2014.
Lackey will be running in Assembly District 36 against Assemblyman Steve Fox.
"As someone who was raised in the desert community of Boron, became a special education teacher, and spent almost 30 years protecting California's roadways, I am running for the Assembly to give our region a clear voice," said Lackey. "As a City Councilman for the residents of Palmdale and a former School Board Member, I will provide our residents with both an experienced and resourceful leader."
As he is considered the lead candidate for the position, Lackey is running as a Republican and has already garnered early support from former adversaries. The broad based support includes some of the area's most trusted leaders such as Board of Equalization Member George Runner, his wife, former State Senator Sharon Runner, as well as Senator Steve Knight, and Palmdale Mayor Jim Ledford.
"Tom Lackey is the best choice to serve our community in the Assembly. He has the temperament, diverse background, and true leadership experience to do a great job for our area," said Palmdale Mayor Jim Ledford. "I know that I am not the only one who will be working hard to see Tom elected this year."
Last November Lackey was the top vote getter by a wide margin for his re-election to the City Council.
"Tom Lackey is a gentleman," said Sharon Runner. "He has earned the respect of both myself and my husband George because he continues to make both ethical and valuable choices for our community."
The 36th Assembly District includes the counties of Los Angeles, Kern, and San Bernardino, encompassing the Antelope Valley, Boron, California City, Mojave, Wrightwood, and Piñon Hills.
Last month marked the end of Lackey's career with the California Highway Patrol. For 28 years, he patrolled the area's highways, helping to ensure the safety of both residents and families on the road.
Tom Lackey was raised in Boron and graduated from Boron High School. He holds a bachelor's degree in special education from Utah State University, and lives with his wife, Theresa and their two children in Palmdale.
###