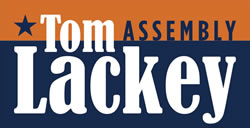 Dear Friends,
Last year, we were able to end the Democrats' 2/3s supermajority as well as their ability to raise taxes at will. Your help was critical to our historic victory, and I once again need your support.
11:59pm tomorrow, June 30, marks the end of the fundraising deadline and the first opportunity to show Democrats that we're committed to protecting our region. Will you donate today, and help me to continue providing the thoughtful, accountable leadership you deserve.
We've worked too hard to ensure that our communities have a voice in Sacramento, and the job is not finished. Protecting our families, creating local jobs, and fighting tax increases will continue being my top priorities, and your contribution will permit us to accomplish our mission. Any amount by June 30 will be greatly appreciated.
Each time I speak with a friend, neighbor or supporter, I'm reminded of how lucky my family and I are to live and work in this area of the state. It has been my greatest honor to serve as your Assemblyman.
Sincerely,

Tom Lackey
CA State Assemblymember, District 36